Foods in the dairy food group offer a unique package of nutrients that work together to provide multiple health benefits, including optimal growth and development in children and reduced risk of chronic disease. These nutrients include calcium, vitamin D, protein, potassium, magnesium, vitamin A, vitamin B12, riboflavin and more.
Flexopack packaging solutions include:
Shrink bags for non-gassing cheese, respiring cheese or high respiring cheese.
Shrink films for all possible respiration levels
High barrier Gusseted pouches for extended shelf life
Skin films for unique presentation and "fresh" appearance
Thermoforming films on clear or colored format
LIDDING FILMS - FLEXOLID™
Flexopack's lidding film range offers a high-performance, efficient solution to allow manufacturers to respond to widespread consumer demand for value for money packaging solutions. 
READ MORE >
SHRINK BAGS & FILMS - FLEXOSHRINK™
Flexopack manufactures some of the most advanced shrink bags in the world for food packaging applications.
READ MORE >
THERMOFORMING FILMS - FLEXOFRESH™
Excellent formability, superior package integrity, accompanied by crystal clear optical properties, ensuring the finest product presentation. .
READ MORE >
Our materials provide a solution for every different cheese maturation level, allowing dairy producers to choose at what stage to pack cheese and plan accordingly their production.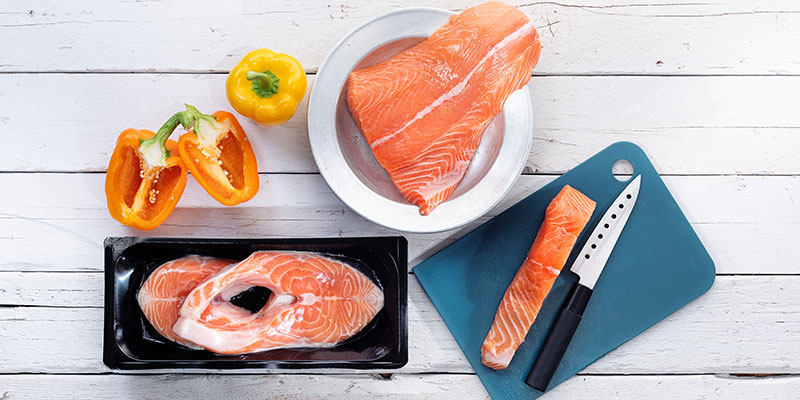 SEAFOOD
Our range of high barrier packaging solutions provides a lightweight and convenient solution for the packaging of fish and seafood.
MEAT
Packaging of meat provides the same or similar benefits for raw chilled and processed meats as other types of food packaging.
POULTRY
Chicken and other poultry products provide a cost-effective and lean source of protein and are vastly preferred by consumers across the world.
READ MORE >